01 Nov

Why start-ups fail: an outside-in perspective

Over the last one decade, ever since the dot-com bust, much has been written about the 'what' and 'how' of start-up debacles. Yet, not much has been spoken about the 'why'' even  though if we scratch the surface, failures-then and failures-now are not very different at a causal level.

As a Transformational Coach, in the last two years, I have come across many who have either started up on their own or have been associated with them. There are also a few who have come to me with their horror stories of how they had to shut shop even after having had a promising start.

With the intention of making entrepreneurship a more wholesome discipline and thereby bring about a kind of 'healing' to the entrepreneur mindset, I decided to probe a little deeper into the mindsets of the founders. As a first step, I posted a question on Linked in – "What are some of the most likely reasons for companies started by technology enthusiasts running into rough weather despite a promising start?" – to which I got a phenomenal response. Respondents were from all over the world, cutting across demographics and psycho-graphics. While some of them came from their own experiences of having burnt their fingers, some others seemed to be at the receiving end. The responses they left behind ranged from being factual, to logical, to opinions and in some cases critical evaluations too.

The question and the answers may be browsed on http://www.linkedin.com/answers/startups-small-businesses/starting-up/STR_STP/868434-5430048.

When I read through the answers, I saw a certain pattern (a) in terms of the areas of concern and (b) the level at which the concerns were dealt / seen. Based on these obvious patterns I have attempted to cluster the responses below.  I sincerely hope that the data below will serve as a trigger for start-ups and small businesses to reflect and re-think not just what they are doing and how, but fundamentally why are they doing whatever they are doing and for once be open to transforming the very mind-sets that are unconsciously limiting their entrepreneurial success.

While the question refers to start-up failures, the answers and the recommendations that they lead to may be seen as valuable insights for yet-to-fail businesses to act upon.

With the economy getting more and more unpredictable and volatile, the only way to develop enterprise resilience is to fortify from the within. And objective of this post is to arouse this need amongst entrepreneurs – both aspiring and practicing – and inviting them to reach out for transformational support. Without which even sprouting of a living conscious enterprise may not be possible, forget flowering and fruition.
How to read the tables
Each table delves with one of the three traps / gaps. The first column list out 'what' was lacking, the second list out 'how' the business behaviors went awry and the third column brings out the 'why' in terms of possible mental and attitudinal blocks that were responsible for the first two.
Most of the data given below is taken ad verbatim from the answers. Data in italics is hypotheses built upon the data taken from the answers and validated through my experience of dealing with such behavioral and strategic / knowledge gaps.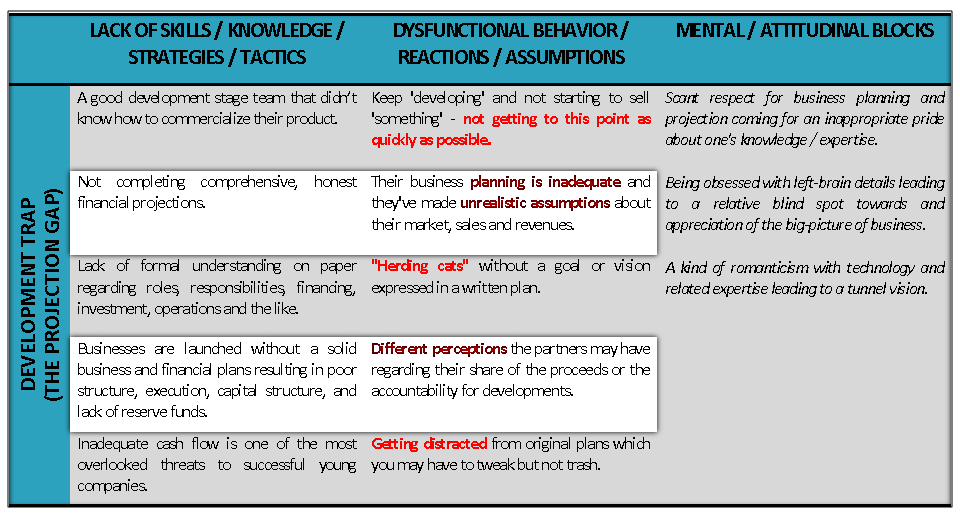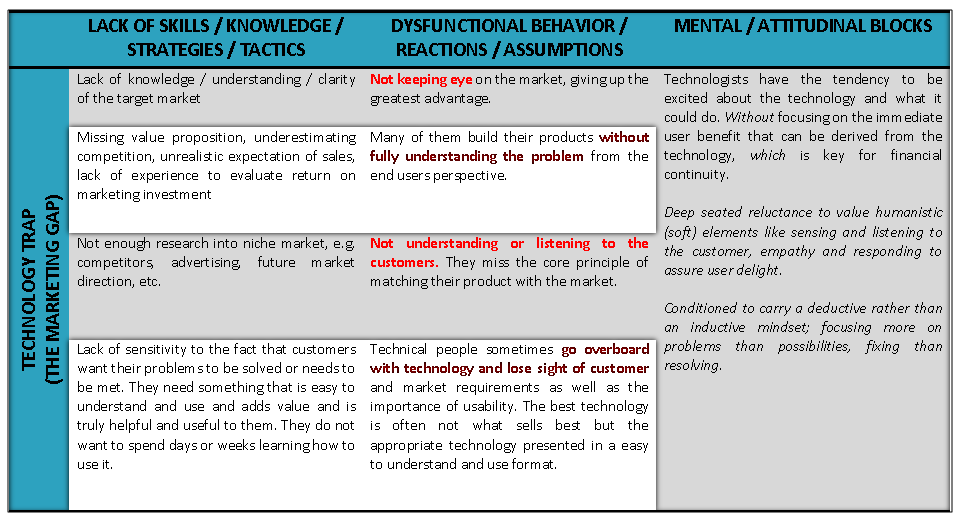 Limiting individual conditions observed in most cases
Frog in the well syndrome, insulating from oceanic realities
A cup full of acquired knowledge (static) leaves little room for learning / wisdom (dynamic
Low receptivity and relative block to subtle hi-context information e.g. from sensing or picking up'
More importance to tools and techniques than competence and core abilities
Low emotional awareness
A surrogate sense of egoic power derived from third-party knowledge
High need for relevance making letting go very difficult
Lack of awareness of deep seated assumptions, needs and values that drive individual action
 Inordinately high reliance on rational logic
 High need for control and predictability 
The above has been culled out of my decade long association with the industry as a coach working with more than 5000 individuals across organizations, roles and responsibility bands.
Download a PDF version of this report from here.
For sustained personal guidance and Transformational Coaching on how to start and stay fail-proof,
reachme@indroneil.com
.