MANAGER AS FACILITATOR COACH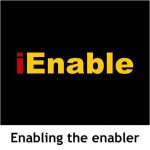 THE NEED
The new age work force, especially, the millennial, wants a more humanistic, more congenial and personally meaningful context to perform and contribute. They are, in their managers, looking for an understanding, relating and inspiring individual who can be more of a coach and guide to help them develop and grow, rather than a task master.
Organizations are also realizing the need for infusing a culture of coaching and facilitation. They are looking up to their leaders and the managers to be culture change agents by donning the role of facilitator and coach. While for the team members this style of leadership can be more motivating and therefore productive, for the managers it means having a more empowered and aligned team to deliver and therefore release of managerial bandwidth for being engaged in more strategic actions.
Having said that, it is not an easy transition – for a manager to move from being directional to being supportive; from being task focused to being people focused; from being delivery centric to being development centric. Managers need to be enabled to balance their delivery responsibilities with their developmental roles. They need to be guided to deal with their anxieties and be able to walk by the side of their team members, simultaneously, as facilitator coach.
THE PROGRAM
Manager as Facilitator Coach (MaFC) is a 3-day non-residential transformational working lab meant to address this emerging need in the industry. A part of the highly successful iEnable suite of Enable the Enabler program, MaFC is distilled from the rich and meaningful experience of enabling leadership journeys of close to 10,000 managers across levels and functions.
MaFC is not another soft-skills or behavioral training program. It is a transformational learning program for learners to develop not only relevant skills but, most importantly, the will to coach, effectively, with an objective to see tangible outcomes.
This program is conceptualized, designed and enabled by Indroneil, the much acclaimed Human Alchemist and Enabler.
WHO SHOULD ATTEND THIS PROGRAMS

Delivery managers, Project managers, Line managers, People managers, SMEs, CoE heads and Account heads, amongst others, across industries and verticals.
OBJECTIVE
To enable managers to make a mindset shift from being delivery-centric to development-centric and get equipped with skills and competencies necessary for them to facilitate-coach their team members effectively. At the end of this program, they will be equipped and ready to guide their team members to grow in their roles and, in the process, joyfully deliver to meet and exceed the customers' expectations.
PROGRAM HIGHLIGHTS

Besides enabling a transformational shift in the mindsets, participants will learn, among others

The 5-I model of engagement
Balancing advocacy with inquiry;
Art of conscious listening, observing and sensing
The art of story- telling
Brainstorming as a method of facilitating enrolment
Participative goal-setting
The art of surrendered listening and empathy; asserting managerial rights
Collaborative solutions
Potential mapping and converting potential to strength
Feedback and coaching conversations;
Root cause analysis of limiting behaviors
The Hour-glass model of coaching engagement

There will be practice sessions using simulated role-plays as coaches and facilitators to apply the above learning. The role-plays will be video-recorded.
Participants will be observed by the program facilitators, evaluated and given feedback.
PROGRAM BENEFITS
ORGANIZATION
MANAGERS
TEAM MEMBERS

Improved performance / contribution and enhanced retention of top talents
Enhanced customer satisfaction and
Robust leadership pipeline

Release of bandwidth for managers to focus on strategic issues
Improved responsiveness and turn-around time
Succession planning

Higher levels of engagement and motivation
Sense of ownership and accountability
Learnability and scalability
TESTIMONIALS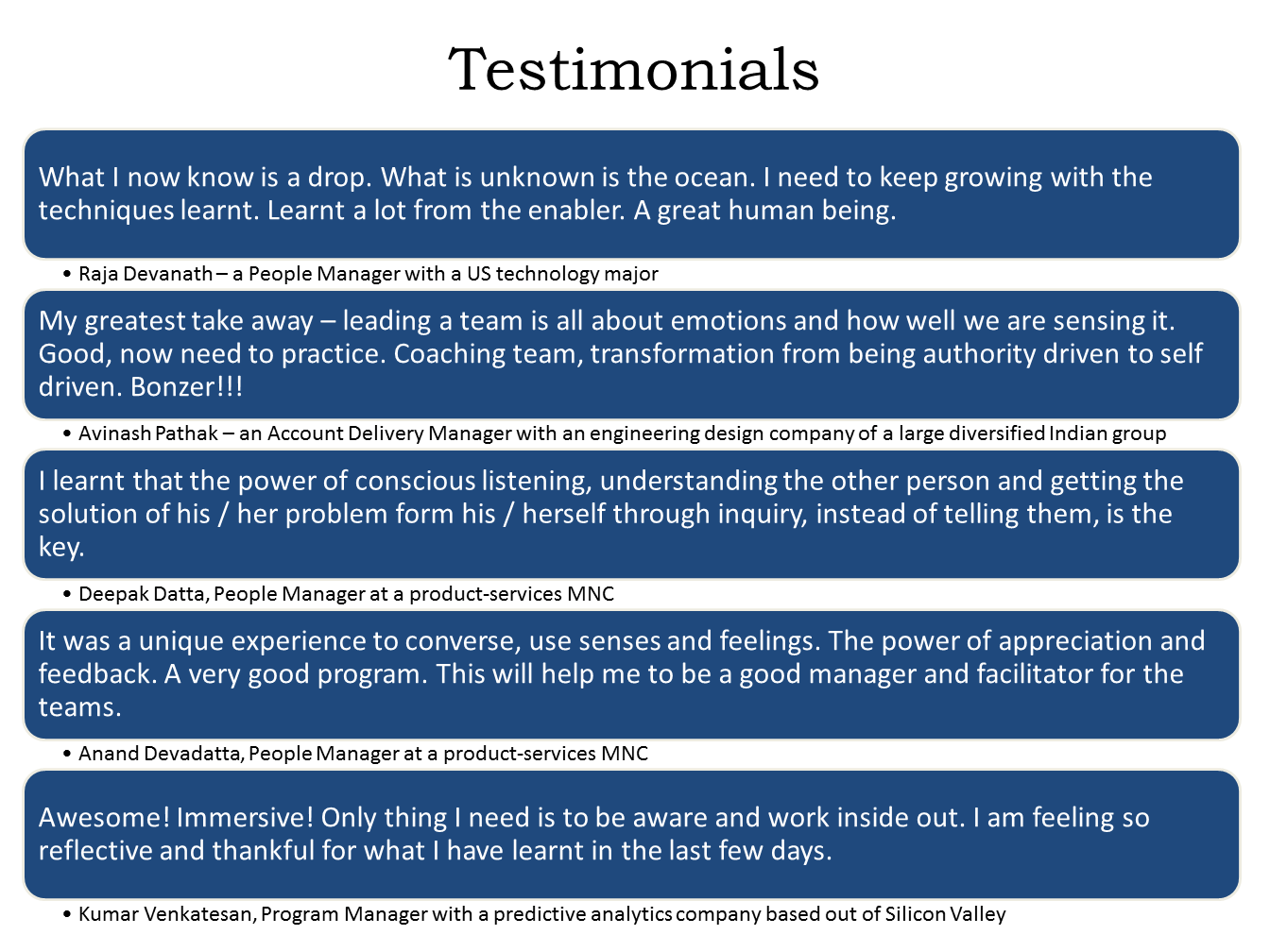 REGISTRATION

Click on the REGISTER button to complete the registration process. On completion of the registration process, you will be sent an invoice with details of the account to which the fee needs to be transferred. Registration will be deemed to be complete only on full and final payment of the stipulated fee, in advance, before the program. Fee once paid will not be refunded. However, attending the same program on another date would be considered.
If you register/pay before June 17, 2017 you are eligible for early bird discount of 10%. More than 4 nominations from the same institution are eligible for a group discount of 15%. Both discounts cannot be clubbed.