From chatter to enchantment in five stages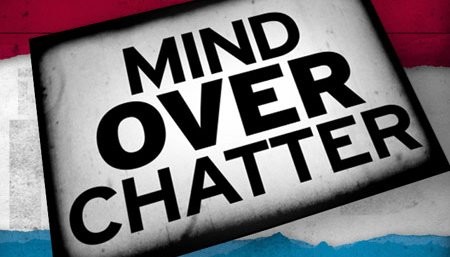 We are meant to speak when we want to makes ourselves known to other. And we are meant to shut up and listen when we want to know others.
While apparently we may shut up, the challenge with most of us is the inaudible conversation that goes on involuntarily in the head. That incessant chatter between you (as the protagonist) and the other(s) as antagonist.
Yes, notice how most often it is battle of sorts where the protagonist is the best-of-the-best and a clear winner. Most of our involuntary thinking and speaking-in-the-mind is about imagining oneself in ones very best, correcting goof ups happened in past and re-framing them to be more acceptable, if not utterly convincing.
Those who consider themselves as expert in linguistic art, celebrities of sorts – writers, authors, speakers, orators – would be preoccupied speaking to their audience and flooring them with their imaginary panache. What's interesting is that most of this imaginary stuff stays in the mind unexpressed. What gets expressed finally is not only very different but most often perhaps more appropriate than what that imaginary expression seemed to be, to the expressionist.
So how does one manage this funny, not-so-meaningful chatter and listen?
Well, it's simple.
To start with, believe that there is nothing wrong with involuntary mind talk. Do not question, judge or try to stop that forcibly.
Take time off to be a spectator to the drama that unfolds in your mind between the protagonists (you) and the antagonist. Watch and listen very closely – even to the non-verbal.
Be careful of not being critical, by time and again reminding yourself that you are not a critic but just another spectator.
Enjoy the conversation. If required, even before becoming a spectator, get yourself in an amused state and tell yourself that you are here to just enjoy and have fun.
After having been a spectator for some time, you may want to now attempt verbalizing the conversation. In the beginning it may be a few words only tumbling out from your lips. Never mind. As time goes, you will see that you can simultaneously, as the silent conversation unfolds, speak out phrases and even sentences.
After having arrived at the fifth stage and being there for some time, some thing magical will happen. I won't tell you what – I do not want to take away the surprise. For sure, it will happen. And if and when it does, if you can please be good enough to come back to this post and share the magic.
Happy watching until then!