Is learning exposed to the danger of mindless digitalization?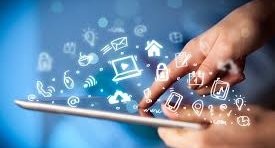 The other day I heard a CLO (who happens to have also become a sort of celebrity) speaking volumes of how social media and cloud is transforming fundamental paradigms of learning. How learning is getting more self-driven and democratized. How enablers of learning / trainers would need to re-invent themselves in order to stay current and relevant.
To me it almost sounded like how the intake of food and drinks is now being revolutionized through 'social nutritioining', if you may. It is like when one is parched with thirst and is craving for a drop of water, one could follow 'water-man' on Twitter or become a member to a discussion forum on Linked In, something like Drink water from Cloud or worse still download an app Piyau – to quench ones thirst. It's like visiting places on Google Map and getting to joyfully experience those places.
It's not new that technology has been put in the front by boys who have not grown, as playthings, for them to experiment with and dangerously try to adapt life critical processes to it. Learning is being exposed to similar dangers of the digital.
To set expectation right here are some myths about learning that is backed by technology, busted:
Content delivered over social media or cloud is not learning. It's as much information as a recipe which one may or may not not be able to cook by just downloading it.
Group discussions / conversations / hangouts rarely leads to learning. It is more often than not like a few blind men talking about their understanding of what's an elephant.
Vicarious consumption of third party knowledge shared digitally is never learning. At best, it may be some cognitive information, that can help one argue and seem wise.
The process of learning cannot be facilitated digitally. At the most, the shared content, can be moderated and consolidated.
There is no informal learning that can happen digitally unless the learner is intentful, open and receptive. And if she is, the digital media is just one more touch space amongst infinite others spaces and touch points that an avid learner pulls learning from, in life.
You cannot expect others to learn informally, digitally or otherwise, without accountability of application in a given context. With the need for a facilitator / enabler taking responsibility for impact, becoming tacitly diluted in an informal learning hype, there is this danger of learning never finding any application, if at all there is learning.
Having said this, it is not all that scary. If social media can be used judiciously (which we cannot expect from over enthusiastic charlatans of learning) with involvement of those who are experts in the process of learning.
I have been conducting coaching sessions on Skype and speaking on virtual platforms for some time now. As an enabler, I realize that the same contagions of involvement and influence that work in a classroom can work virtually too, if the trainer / facilitator comes emphatically with her personal power and openness of expression.
It is possible to facilitate a group process and it is easier to consolidate it to what we can call as learner-generated content, if the facilitator can read between the lines and ask leading questions to verbalize the subterranean processes. It is possible, similarly, to enable a group to make discoveries and gather valuable insights in course of a digital conversation from 'here and now' data that emerge from the processes that show up during the conversation.
Finally a word on learnability and learn-agility – essential and key prerequisites to learning. While for a few handful of initiated and intentful learner, this too can happen digitally, by far, this needs on-ground intervention. For every working-lab of three days that I facilitate, the first 8 to 12 hours is focused on opening the lids – reducing resistance to learning and transformation and thereby enhancing openness and receptiveness to new insights. Once an individual or a group of individuals have gone through the process of learnability / learn-agility enhancement, s/he will surf and Google to find the right resources for self-paced learning. All she will need, is ongoing accompaniment, by someone who can help her apply the learning back-home.
India has been home to a tradition of what may be called as personalized learning – face to face learning from a guru – also called guru-shishya parampara. No wonder, its Indians who are managing the affairs of some of the Fortune 100 companies. At the risk of sounding archaic, I strongly believe that well tried out and proven methods of learning from this system be re-claimed and adapted to new digital mediums without trivializing the need for (1) enhancing learnability and (2) face-to-face engagement of the learner and enabler for the same.
Technology was and will remain a tool. Which can be effectively harnessed by capable people, much like, to use a hammer you need to have strong hands. And quite likely, if your hands are strong enough and, most importantly, your objective is clear and will to do it right strong, you may not need a hammer at all. Anything that can help drive a nail home, becomes a tool.
(This was first published as a blog a few years back, when I had first sensed the danger of simplification of learning and mindlessly rendering it to digital mediums. Nothing has changed. In the context of the world clamoring about the need for digital revolution today, some fundamentals will / should not change. If growth and goodness has to prevail.)