Lessons in Conscious Leadership : Lead from being serviced to being a servant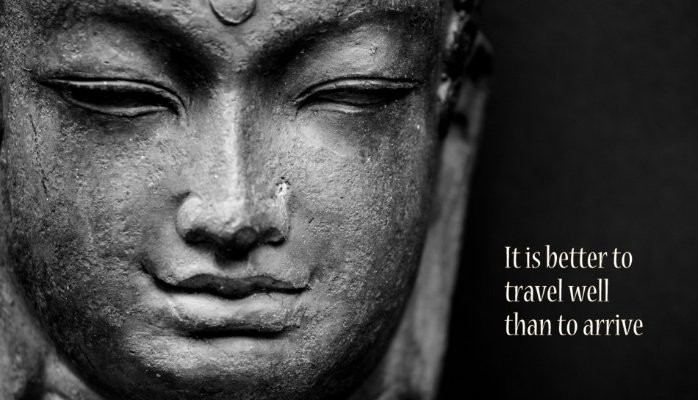 In being of service, I lead you from being Serviced to being a Servant. And in so being, you finally begin to Live. You finally begin to Love.
I do not have a guru. I never had one.
When I was 12 my mother took me to his guru to get me initiated. After standing in a long queue in a sultry summer afternoon, when my turn finally came, she asked me to touch his feet and seek his blessings. I hesitated and then raised both my hands to join them in a 'namaste'. I did not touch his feet. When I came home my mother questioned me for my seemingly audacious behavior and asked me why I did not touch her guru's feet. I told her they were dirty and I did not feel like touching them. She obviously was not convinced. There, however, must have been some truth in the self-disclosure of the child that made her consider my response and let me go without being punished.
What did the child mean to say when he commented on the guru's dirty feet? Was it about the guru or his expectation of a guru that he was expressing?
Much later, in mid 80s when I started my career, one of my managers, who had taken it upon himself to mentor me, gave me this book – If you meet the Buddha on the road kill him – by Sheldon Kopp. This book, read at an impressionable age left a lasting impact. In fact it was a turning point.
The most important things that each man must learn, no one else can teach him. Once he accepts this disappointment, he will be able to stop depending on the therapist, the guru who turns out to be just another struggling human being."
~ Sheldon B. Kopp, If You Meet the Buddha on the Road, Kill Him: The Pilgrimage Of Psychotherapy Patients
This belief got etched in me and I rested my quest for a master. Instead, I chose to make my life a crucible of learning, each touch point of it becoming a guide, a teacher of sorts.  I had many teachers, many guides. And I value and respect them for having co-traveled with me at crucial junctures. Never, however, I have set them up on a pedestal, assuming that they have, having transcended their own human frailties, arrived. Never have I made them responsible for my journey and sojourns.
The other day in one of my sessions a participant asked me where I have I learned the art of facilitation. Who taught me how to enable others? Who was my guru? I responded with a fumble that is characteristic of me when I have to answer this question. The stereotypical expectation is that such disciplines must be handed down from one expert to another. One must be a disciple of some guru to be able to become a guru himself. Little does the world care for and understand my anathema with having someone to tell me how to do something which otherwise comes from the core of my essence. Rarely does the world consider it a possibility that someone who himself is on his own exile to find liberation from the cage of freedom he is destined to as a human being, can be a guide, an enabler to another struggling soul.
And yet it has happened. Without ever having tried or wanted to become a guru, a master, I have been led to serve the cause of human growth and transformation for close to two decades now. My experiments with being authentic and vulnerable while endeavoring to facilitate learning and transformation with individuals in groups and one-on-one has led me to powerful insights which I have captured in my blog – I lead you from being serviced to being a Servant.
I have realized that this is a path of servitude. Path of contentment and compassion. Embracing and enabling others who are struggling, unconditionally, as Gods in swaddling bands. Sometimes gentle, sometimes harsh yet always committed to serving the cause of manifesting the fascinating grandeur of being human, for me it's been a journey of mutual growth and transformation.
It's about stepping out fearlessly without any certification, titles or prefixes / suffixes, baring my soul, wearing my vulnerabilities on my sleeves, withstanding all the ridicule even as I stay ruthlessly authentic to accompany the other in a shared journey.
It's also about staying insulated to invitations / insinuations of self-proclaimed gurus and not succumbing to social conditioning of seeking directions from a more accomplished individual / institution. And, I realize, in doing so, I have to helped them too to confront their own smallness concealed by their claims of wisdom. I have, in my own ways, helped them seek a path of humble submission and co-sufferance.
Thus, as a Conscious Leader, I have served not only the ones who follow but also those who seek follower-ship. I have remained largely invisible to all but the One and in my direct inspirational connect with the Existence 'done' good without actually doing anything but carrying a sustained sense of servitude.
I have learnt that as a Conscious Leader I need not ride the high horse or look up to those who are riding one. I am, as a learner for life, blessed with my own struggles to intimately watch and learn from. They help me to genuinely empathize with others. And together we journey to experience our struggles and emerge with the knowing that helps us blossom. It's a journey of equals – a shared journey of frail and fallible human souls where one consciously mirrors the other. The one thing, of course, that I bring in to this intimate relationship is my consciousness and the compassion that is born out of it.