WHAT'S SO UNIQUE ABOUT HIPS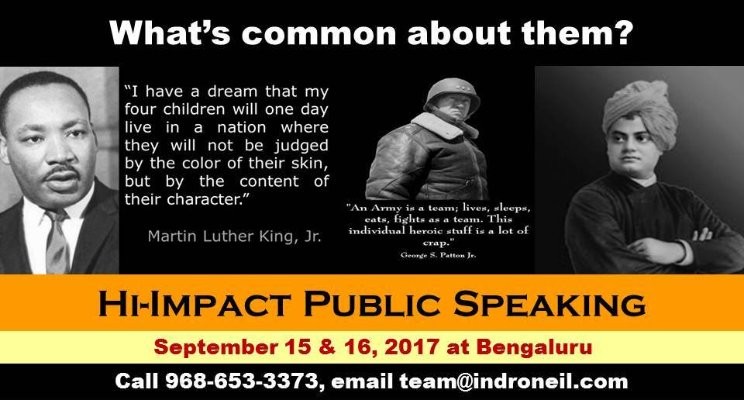 THE GENESIS
Hi-Impact Public Speaking (HIPS) was launched in 2011 not as just another skills development program for presentation or public speaking. It was born out of sheer disappointment and disgust to experience the way many a senior leader spoke in public and a desire to address the business needs of leaders being able to create the intended impact on their audience.
As public speaker myself, I would often be invited to different forums to either chair panels or speak. Most often I have had to endure the painful ordeal of the previous speaker reeling out his / her slides, oblivious of an audience that, though physically present, was otherwise absent. Sometimes despite all the histrionics that would almost make the speaker look like a stand-up comedian. Yes, the practice has been by far more content-out than audience-in,the objective being impressing others than expressing oneself. Speakers are so madly obsessed about their content – mind you it is their content and not the audience's – that they almost forget that they are there because the audience is. To me it always felt that the speaker on the dais carried this smug assumption that the audience is there because (s)he is. This content mania, I have seen, has also, very often, led the speaker astray from the objective of the speech – the intent – as (s)he blissfully gets lost in the maze of data and statistics.
Such experiences reminded me of my early days of listening to Dr. P. P. Gupta, the CMD of CMC Limited, the company that I started my corporate journey with in mid-eighties. He would speak for hours, without presenting a single slide, keeping us, a group of anywhere between 200 to 500, mesmerized. His eye contact was such that, even though he may know little or nothing about me, it would seem he was speaking to me. And most importantly, every time he spoke he left us all with a transformative impact, often at strategic levels. Much of such impact gave birth to epochal projects of CMC like, Passenger Reservation System, Bank Automation, Computerization of stock-exchange and the likes.
Having experienced Dr. Gupta very closely and being a natural enabler, I got onto studying what could be holding back many a speaker from engaging their audience, leave aside creating an impact on them. I also, in my mind, drew up an inventory list of what fundamental qualities in hi-impact speakers like Dr. Gupta could make their speech so impactful, abstracted it to affective, behavioral and cognitive (ABC) levels and created a framework called the Secret Pentacle of 5-Is. This forms the DNA of HIPS around which it was shaped and launched in 2011.
BUSINESS RELEVANCE
I was a sales and business development professional in my corporate days which spanned 16 years. If there was one thing that I learnt during that stint, it was that no matter what relationship you built with your customer, how great your product presentation was, how impressive was your proposal, at the end of the day what matters was closing the sale. The Impact. Later, as a human enabler, I carried that learning to endeavor and leave the participants with clear impact that would preferably be relevant to the business. Contrary to the current practice of focusing on bringing about a lot of 'entertainment' creating a feel- good experience for the participants, so that they leave impressive smile sheets.
To ensure sustained focus on enabling participants to create impact, in HIPS, we deal with case studies that are drawn from the relevant industries. Participants play out roles based on these cases and are given feedback by others as well as me, not on the content they bring forth but the methods they use to drive the desired results home.
INSIDE-OUT FOCUS
Speaking to public, telling stories and engaging people is an age old practice that has involved people from all positions, ethnicity and language. To me it's a prerogative of every man on the street. HIPS brings back this primacy of prerogative and engages participants from all walks of life – anyone who is enthusiastic about leaving his / her audience with a lasting impact – to awaken the will and develop necessary abilities to do so.
Thus, instead of focusing on acquired position, diction and linguistic panache and making corrections, in HIPS participants delve deep into what holds them back from unleashing their natural public-speaking potentials, dissolve the 'bugs' and then unleash the potentials in full force to surprise themselves with the impact that they can create amongst others.
WISDOM APPLIED
Unlike most other learning programs, being driven by a fierce commitment to ensure application of learning, in HIPS, participants are coached through iterative practice to perfect the use of the Secret Pentacle of 5-I. They are given feedback by the audience. Their practice sessions are video recorded and time permitting are played back. By the time they are ready to leave, at the end of the two days, most participants are raring to experiment with and apply the learning in their respective contexts.
The taste of the pudding is in eating. If your intent is clear, sign-up and experience it. Like most others who have done so, you will love yourself for having done that.
______________________________________________________________________
Indroneil as a public speaker brings about deep, lasting and transformative impact. Notwithstanding the size of the audience, he combines the richness and diversity of his experience with an outstanding gift for spontaneous and authentic expression to cast a mesmeric spell on the audience. He believes that this happens because while speaking he gets completely merged with the message that is meant to be conveyed and is then guided by forces to deliver as an instrument.
What makes Indroneil unique and stand out amongst other public speakers is his uncanny ability to spontaneously deep dive into the cause of any symptom – the mystics underlying the metrics – and present a simple workable approach to understanding and resolving issues at the bottom of the funnel – the root. Download from here a copy of a document on Mystics to metrics – lecture series.
Indroneil also enables aspiring and practicing speakers to become powerful public speaker through his signature program – Hi-Impact Public Speaking (HIPS).