Bach Flower @ workplace – Part 1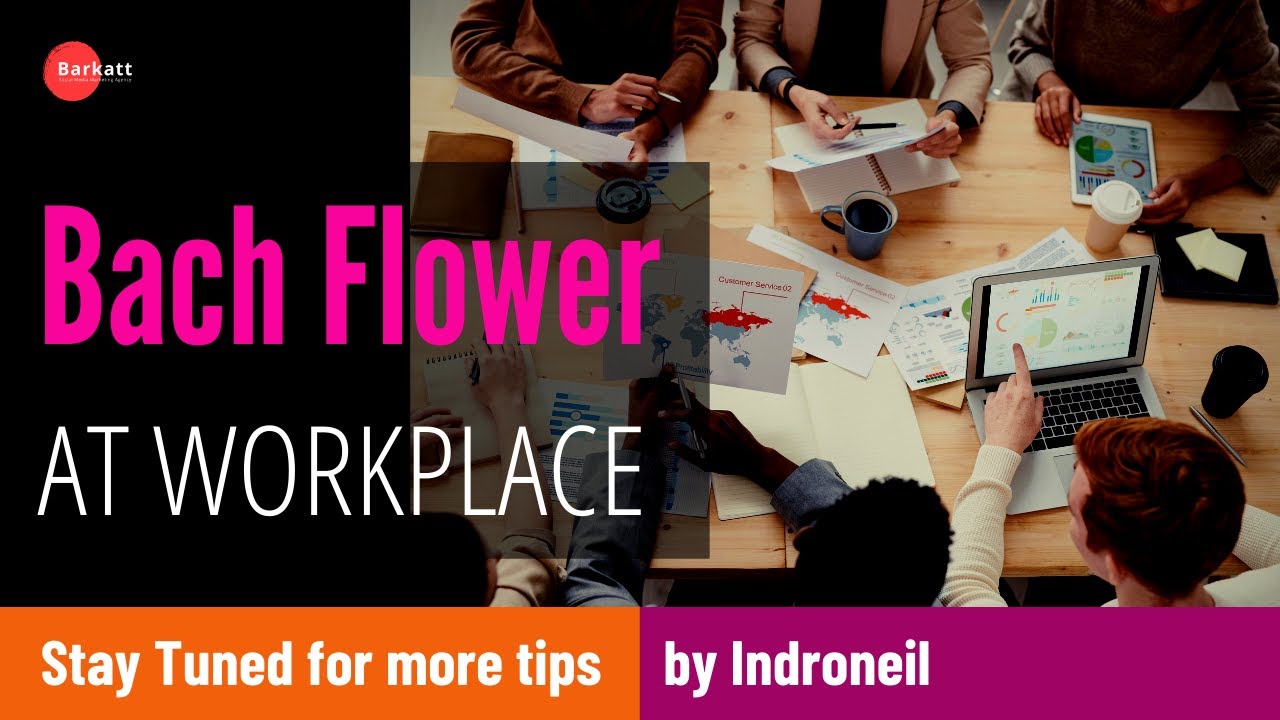 In September 2019 Economic Times reported that an alarming 42.5% of the employees in the private sector of corporate India suffer from depression or some form anxiety disorder. Studies indicated that two-thirds of people who had suffered from depression faced prejudice at work or while applying for new jobs.
The business impact of such crisis is predicted by The World Health Organization. It estimates that India will suffer economic losses amounting to a staggering 1.03 trillion dollars from mental health conditions between 2012 and 2030.
What worsens the situation is that in India, mental health issues are even bigger taboo than in the West. The stigmas attached to mental illnesses ensure that people sweep things under the carpet and suffer in silence instead of speaking out and seeking help. Studies shockingly show that 71% of Indians still use terminology associated with stigma and prejudice to describe mental illnesses, drastically reducing the above statistical estimates.
The study was conducted before the pandemic. With the pandemic and related drastic changes in the economic scenario and resulting working conditions, the state of mental health at workplace has further deteriorated. There is a scurry of service providers offering fitness programs which help in releasing happiness hormones, only to temporarily numb the effects of the illnesses causing further delay in their diagnosis and treatment. Some are offering stress relieving programs like yoga and meditation, the regimen of which is being adopted by a few. The rest, specially those affected, are in no mood to subject themselves to complicated routines. In addition, reports of damage being done by unsupervised meditation, not guided live by any expert, have started trickling in. The affected predominantly therefore is resorting to psychotropic drugs, some under medical supervision, others self-medicated. Exposing themselves to a host of toxic side effects including getting habituated to these chemicals.
Bach Flower Remedies are subtle liquid extracts of flowers wild trees and bushes, which are used to uniquely address profound issues of mental and emotional well-being. Simple and safe to administer.
Besides addressing day to day issues and restoring harmony, Bach Flower remedies address mental health issues like addiction, anger, anxiety, depression, fears and phobias, grief, isolation and loneliness, low self-worth, mental exhaustion, PTSD, sleeplessness, stress, suicidal tendencies and trauma, among others.
The remedies also help in managing physical ailments that are caused by suppressed emotions like allergy, arthritis, gastritis, hypertension, hyperlipidemia and hyperglycemia, among others.
There are 38 remedies that were discovered by Dr. Edward Bach in England between 1920 and 1940s. These remedies along with millions of possible combinations are being used currently in over 70 countries world over. They are quite popular amongst the elite in the West and beginning to be popular in India, particularly amongst the sensitive, health conscious individuals.
The remedies are safe and gentle and can be used on babies, expectant mothers, children, adults, elders, pets and even plants. They contain no bio-chemic component and are purely energetic in nature, hence can be used as a complementary therapy alongside any other course of treatment with no danger of side-effects, over-dosing or contra-indications.
Bach Flower remedies can be used for self-healing. However, as Bach Flowers heal in layers and work in combinations customized to individuals' personality and emotional map, it is advisable to consult a therapist, go through a complete therapy and get the combination that suits, prescribed, for maximum effect and permanent healing.
To register for educative public webinars coming up soon, join the WhatsApp group – Wellness @ Workplace by following the link https://chat.whatsapp.com/LxUeoW2x14CHygtWjL2u5g.
For corporate webinars and other inquiries write to reachme@indroneil.com
Indroneil's Journey with Bach Flower therapy
In his journey of transformation, if there is one thing that has had a profound contribution, it's the floral essences discovered by Dr. Edward Bach.
When he started dabbling with Bach Flower remedies, about 10 years ago, he was all by himself. Knew no method, no tracks. Didn't even know the types. Totally guided by his intuition and a certain sense of divination, he waded through in his adventure with the flowers.
He read a lot from a plethora of resources, typically to find solutions to emotional challenges that time and again he noticed in himself. He experimented with mixes and observed their effect. And made a lot of mistakes on the way. "What I like is the forgiving, kind and gentle nature of the remedies. I knew even if I go wrong, nothing wrong will happen to me. I am safe.", says Indroneil.
Much later, he was fortunate to find a teacher, who with his benign guidance and depth of wisdom, helped him to bring some method to his madness.
He studied several methods thereafter including Dietmar Kramer's tracks method and used them eclectically depending entirely on what the client's situation demanded. Till date, this remains a key differentiator of his therapy – being client centric.
Download a compilation of case studies from here.
Indroneil, though practicing privately since 2015, formally began his practice in April 2019. He soon realized, through the stories of transformation that his clients had to tell, how magically the remedies cleared the innermost blocks, layer by layer to eventually cause a union between the lover and the beloved, the persona and the essence.
Indroneil also offers ongoing accompaniment to executives where he combines his therapy with coaching conversations and presencing – a proprietary approach to mindfulness.
Indroneil's practice is backed by 20 plus years of consulting and coaching experience through which he has touched / transformed lives of more than ten thousand individuals. He also comes with a rich background and exposure to applied behavioural sciences through his journey with ISABS (1987 – 2003).
Today, Indroneil is a much sought after and respected Bach Flower therapist, not only in Bangalore but the world over. He is internationally accredited by IPHM, UK.
Indroneil regularly conducts an online course – Transforming Lives with Bach Flower therapy – for aspiring and practicing therapists, to make them practice ready. Click here to download a brochure.
#bachflowerremedies #bachflowertherapy #mentalhealth #mentalwellness #holistichealing #emotionalwellbeing #getpracticeready #therapist #holistichealth #holisticwellness #illness #depression #stress #disease #wellness #practice #remedy #bach #anxiety #suicide #addiction #fear #panic