Curse of Brahma: are you affected?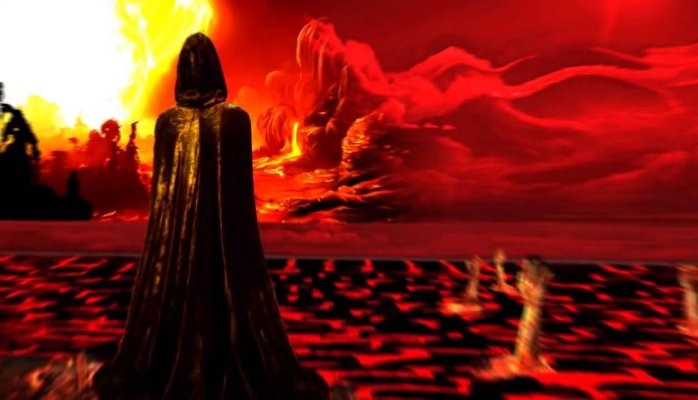 Brahma was cursed for having got infatuated with his creation and chasing her (supposed to be her daughter for he created her) till the end of the earth. While it is true that he developed a four dimensional view of the world (depicted by his four heads) to track his creation, it's also true that he lost his fifth head (depicting his ego) to the curse of Siva (supreme consciousness), thus losing his connect with the higher self. His consort Saraswati (depicting knowledge and wisdom) brought back the awareness.
The start-up founders, Brahmas of the new age, how do you propose to safeguard yourself from Brahma's curse? What are you doing to avoid getting infatuated with your creation, hold on to her as long as you can and, in the new-age context, driven by selfish greed, sell it off to another suitor to 'feel' rich? Yes, just 'feel' rich. For not a single dollar that you earn out of an exiting deal can you take back as lasting richness. Nor can you do much with that to redeem you from the curse in this life time.
The only way is to let go. Let go when time comes to pursue your passion, your purpose differently. Let go of your ego of incestuous ownership. And let go of your false paradigm of freedom of being on your own, shackling you and holding you back from living your purpose fully, where it can best be done best and in its fullest, without having to chase business bottom-line and sacrificing your nights' sleep to stay black, as a humble servant.
Some three years back I was consulting with a 22-year old start up. In vain, I tried to help the founder let go of this creation – an awesome concept in zero-energy housing development. Such, however, was and is his passionate and toxic need to possess and control his creation that he has dwarfed it beyond redemption. God bless him and bless all those founders, especially of product companies, who have stayed obsessed with their creation refusing to let go despite dwarfing its value in terms of serving any social good – which happens to be the defining qualifier of being in business.
Sometime back, I exited from my creation – iProdigy – my first entrepreneurial pursuit created 14 years back. Not to get rich and famous and be written home about but to move on in my evolutionary course of purpose-led journey. To me, my creation was a vehicle meant to facilitate my purposeful journey of lifting individuals and institutions from below-the-humanity-line. Way ahead of its time, after having brought about magical shift in lives of 55 of its illustrious clients and more than 7000 individuals working with them, iProdigy was finding it difficult to drive sense amongst the mainstream to adopt a path of conscious co-existence. And I was finding myself stuck and strapped in holding on to it as its creator, sacrifice my movement along an evolutionary path, in my journey of manifesting human-ness and awakening divinity in the human. An imposed sense of responsibility made me hang around for a couple of years, till one fine morning, last month, I decided to step out to explore more purposeful pursuits for myself, leaving iProdigy to its own destiny. This was a crucial juncture. The Universe was waiting for me to action my faith in its design. As if to reciprocate with all that was in store for me for having paid heed, it gifted me with this coveted opportunity of being a pure play enabler to businesses that are into enabling organization, leadership and talent transformation. It's just about a quarter since I have got associated with global consulting houses as an enabler but the ease with which I am gaining momentum in unfolding my enablement plan could not have happened had it not been divined.
What have I done differently? Well, I made my purpose my God. My egoistic need to hold on to what I created got dissolved in the relentless fire of serving the core of being human. The paradigms of freedom that shackled me in being free and autonomous being on my own were dumped. And most importantly, servitude got preference over ownership.
The power of love has prevailed over the love of power. It's too early to predict the outcome. However, never mind where my decisions take me, for once I feel so relieved to live the reason for which I was born. The re-assurances and good wishes of those who I shared this decision with will take me through I know.
Here are some of the good wishes:
I am sure you would be "The Enabler" …

At least you … tried. So hard and for so long. And that counts for a lot my friend, a heck of a lot. It is sad that we just weren't ready for your vision. Perhaps one day, some time. Please allow me to wish you all things the best in your new role going forward.
 As long as you are fired up to take up new challenges and the will to make it a success, nothing in this world can stop you to reach, where you want to. All the best,
Through iProdigy, you have touched and enabled the lives of so many people. I am sure through the new platform … you will continue to transform and enable even more leaders. All the best in your new journey.
 The brilliant repositories and technologies will certainly be valued by true seekers.
I have had many insightful e mail s from you during your innings nurturing iProdigy. Wishing you all the best in your second innings. Let us keep the conversation going.
 It is a bit of a surprise and in a way, a bold leap forward. You have made a huge impact to many lives including mine and what you sowed as a seed over the last 14 years, it will continue to grow as a thick forest. All the best and good luck. Will stay connected to get enlightened
 Great move & all the best , Indroneil !
For once I  am glad to reclaim my right of being and living as a human – a unique individual with a unique DNA to make a difference and cause an impact to destiny of people around.